One of the most well-liked types of anime is lesb*an anime or Yuri anime as it is known in Japan. You've come to the correct place if you were looking for some hot Yuri anime when you came across this post. Let me welcome you to this lovely world if you arrived here knowing nothing about Yuri.
The focus of the Yuri (lesb*an) genre is on love connections between female characters. Really, there is no simpler way to put it. If this makes you think or makes your heart race, buckle up because you're in for a wild journey.
The top 10 lesb*an anime that you will like viewing are listed here. These anime may not all have a central lesb*an subject, but they all contain supporting lesb*an characters who won't let you down.
Ms. Vampire Who Lives in My Neighborhood
You discover a vampire neighbor that lives next door and is as adorable as a doll while not attacking people. Do you have a plan? I'm not sure about you, but "Akari" wants to hang out with this young cutie.
You might be wondering why, too. For that, you must watch this story of a human and a vampire who live together in ordinary situations and get somewhat close as a result of learning about one another's cultures. It's time to start binge-watching this pleasant Yuri anime if you receive the cue.
Number of Episodes: 12 episodes
Personal Rating: 8.20
It's as easy as two maidens yearning for each other. Straightforward lesb*an relationship, no trying to disclose, no drama. Yuzu, a responsible girl, must transfer to an all-girls school for familial reasons in the citrus anime.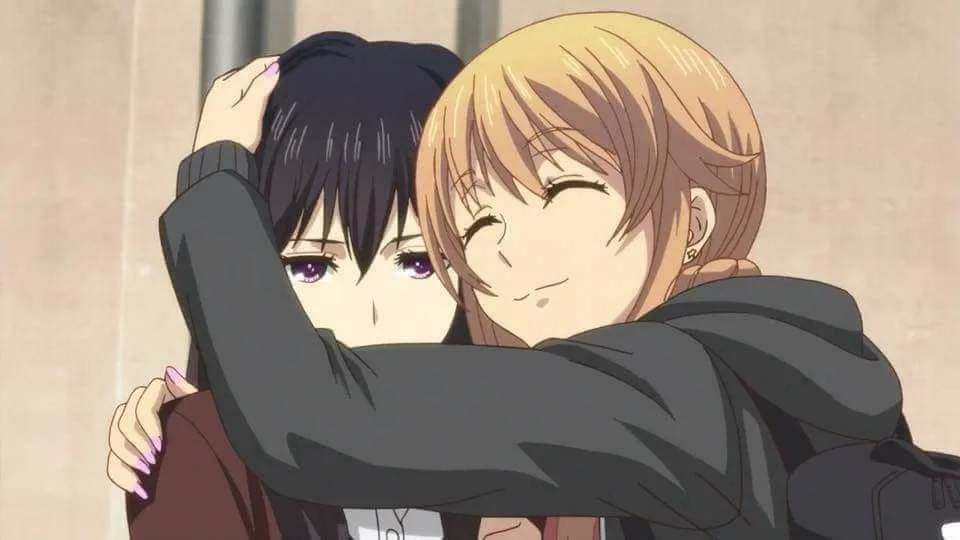 She runs into the head of the student council, who treats Yuzu inappropriately in an effort to take away her smartphone.
Await your surprise when you learn that these lesb*an lovers will be step-sisters. A little familial romance is harmless for everyone. You'll see how these step-sisters navigate life and "forbidden" love gently but gradually.
Number of Episodes: 12 episodes.
Personal Rating: 7.00.
Read More: Is It Safe and Legit to Watch Anime Online at Anime Heaven?
Girls from Fox and "Purification." That is clearly a union made in heaven. The straightforward plot of Konohana Kitan centers around a fox girl named "Yuzu" who begins working in a hot spring Onsen. Because of her lack of experience, Yuzu is unsure about how to handle anything.
She, therefore, encounters different girls and makes new pals as she goes about her daily routine. Yuzu encounters various girls as she goes about her daily activities, forging new relationships with everyone. You simply cannot object to this sweet lesb*an romance, can you?
Number of Episodes: 12 episodes
Personal rating: 7.50
This is a contemporary Yuri masterpiece in my opinion. A lesb*an anime romance between two characters, voiced by Miku Ito and Akira Kitou (Nezuko from Demon Slayer), is depicted (voice actor of Miku from Quintessential Quintuplets).
Two girls are seen sitting in the gym on the second level of their school, skipping lessons to pass the time.
As time passes, "Adachi" comes to the realization that her feelings for the "Shimamura" go beyond simple friendship. But she discovers it the hard way when Adachi starts to depend on her for attention and Shimamura starts to hang out with other girls.
Number of Episodes: 12 episodes
Personal rating: 8.90
The Bloom Into You anime has a rough beginning, but perseverance pays off. The narrative of "Yuu," a young lady with delusions that her prince charming will ride up on his horse and whisk her away from this realm, is followed in the series.
She is totally preoccupied with Shoujo mangas and such things. Wait till our "Touko," her childhood buddy, shows up before she openly professes her love for her. And that is the beginning of a healthy lesb*an relationship.
Number of Episodes: 13 episodes
Personal rating: 7.90
A horror anime is called Happy Sugar Life. If that prompts you to decide against watching this anime, you should make sure that you still adore this style because you would be missing out on a fantastic Yuri anime romance. The television show centers on "Satou," a character who has recently started high school.
Everyone sees her as having a severe fear of males. She is living with another girl named "Shio," with whom she is deeply in love and who she wants to keep safe at all costs, as we discover in this passage. The struggle for love has begun!
Number of Episodes: 12 episodes
Personal rating: 8.00
WATATEN!: An Angel Flew Down To Me
This is the tale of "Miyako," a college student who spends her days largely making clothing and occasionally putting them on herself. She has a slight inferiority issue about her appearance, so she is searching for a cuter female who can dress up for her.
One crucial day, Miyako's younger sister invites her friend "Hana" over to meet with her. When Miyako first sees Hana, she realizes right once that she is the special girl she has been looking for.
The show focuses on Miyako's daily routine, in which she bribes Hana with candy and coos over her to try on an article of new clothing.
Number of Episodes: 12 episodes
Personal rating: 8.20
Read More: The Best Sites to Stream Anime so You Can Watch It Online
You didn't really think I wouldn't include vintage, classic anime on this list, did you? Old is gold, as they say, and they mean it. The protagonist of Oniisama e, "Nanako," Enrolls in a famous university in the hopes of receiving a top-notch education.
Yet, because she is not of the standard of this famous school, she is ridiculed by other female students. Despite this, Nanako develops relationships with the three most attractive students at the school and shares life, misery, and jealousy with each of them.
When Nanako begins to have romantic feelings for girls she once considered to be friends, we observe love triangles in many kinds of relationships. Who will ultimately win her heart, though?
Number of Episodes: 39 episodes
Personal rating: 7.10
The theme of the Non-Non Biyori anime is recovery. adorable young girls acting adorable. Yet we'll concentrate on some characters' lesb*an characteristics.
The movie follows "Renge," a country girl, and her pals as they go about their daily lives in a dull village looking for entertainment.
Due to her dad's transfer, a city girl named "Hotaru" enrolls in their school one day, and the group demonstrates to her the benefits of living in the country. When Hotaru meets the group's "Komari," a member who is so adorable and diminutive, she develops an obsession with her.
Hotaru begins to look up to her in every way. We observe how these young girls discover new emotions in life through building dolls just like her and extending daily invitations to spend out with her alone.
Number of Episodes: 36 episodes + 1 movie
Personal rating: 8.90
Yuru Yuri: Happy Go Lucky
Our protagonist "Akari," a character who is not particularly protagonist-like, tells the story in this Yuri anime. With her friends no longer around, Akari is demoted one grade. But, she subsequently meets up with her friends, who have now established an "Amusement Club" where they relax and sip tea.
This club's vice president, "Ayano," is a tsundere who struggles to face her love, "Kyoko," which makes life difficult for her. As these girls spend their school years in this group doing odd things while unintentionally ignoring our main protagonist Akari, you will follow their antics.
Number of Episodes: 38 episodes
Personal Rating: 7.10.