Laptops from Lenovo, the ThinkPad line in particular, are dependable and sturdy enough for use in the business world. ThinkPads are easily recognizable by their signature black exteriors and bright red TrackPoint mice. Those who need a dependable and sturdy laptop, like those who frequently travel for business, will find their needs met with a ThinkPad.
They have robust CPUs and large amounts of RAM, making them suitable for intensive commercial software. Because of their many built-in safeguards, ThinkPads are ideal for enterprises that need to keep confidential information safe. If you're a business professional in need of a sturdy, long-lasting, and safe laptop, go no further than a Lenovo ThinkPad.
Lenovo ThinkPads are ideal for companies that need to protect sensitive data due to their powerful CPUs, ample memory, and wide range of security capabilities. Lenovo ThinkPads are the best laptops to buy if you frequently travel for business.
The Lenovo ThinkPad E585 is a powerful laptop that won't break the bank despite its frequent use.
Short Lenovo Thinkpad e585 Specs
When first encountering a smart device, it can be very challenging to fully appreciate it until viewing its brief specification table. The supplied features and characteristics make visualizing the laptop in action much easier.
| | |
| --- | --- |
| Features | |
| Display | 15.60'' |
| Pixels per inch | |
| Prize | $640 |
| Resolution | 1920×1080 |
| RAM | 8 Gigabytes |
| Maximum RAM Support | 32 GB |
| Storage | 256GB |
| Battery life | 8.63 hours |
| Frame per inch | |
| Processor | AMD Ryzen 7 2700U processor |
| Graphic Processor | |
| Weight | 2.2 Kg |
| Operating System | |
| Processing Speed | 2.2 Gigahertz |
| Processor Type | |
| Processor Core Type | Quad-Core |
| Camera | |
| Audio Support | HD Audio, 1.5W x 2, Dolby Advanced Audio |
| Limited warranty | |
Read More: 
Functions of the ThinkPad E585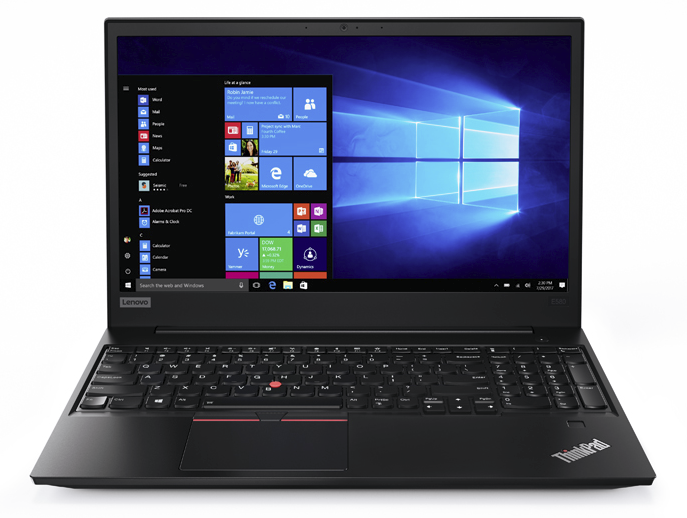 The Lenovo ThinkPad E585 has a 256GB M.2 PCIe solid-state drive, an 8GB DDR4-2400 memory module, a Radeon RX Vega 10 graphics processor, and an AMD Ryzen 7 2700U dual-core processor. The 15.6″ screen runs on Radeon RX Vega 10 graphics and has a Full HD (1920 x 1080) resolution.
There is an HDMI port, an SD card reader, a 3.5mm headphone jack, and three USB 3.1 Gen 1 Type-A connections for data and media transfer. A fingerprint reader, Wi-Fi (802.11ac), Bluetooth (4.1), and a camera with a dual-array microphone are all built-in. The pre-loaded OS is Windows 10 Home (64-bit).
Construction and Style
The E585 is built to last and manufactured from durable, high-quality components. The touchpad is big and responsive, and the keyboard is illuminated. The visuals are crisp and the audio is undistorted.
There are many different ports and interfaces on the laptop, including Thunderbolt 3. The laptop has a long-lasting battery and a quick charger. The Lenovo ThinkPad E585's only real drawback is that it's not a particularly powerful laptop and isn't great for games or heavy multitasking.
Possibility of Storage
A 256GB PCIe NVMe OPAL2.0 M.2 SSD is installed in the Lenovo Thinkpad E585. The speed of this solid-state drive far outpaces that of a conventional hard disc. It's sturdy and dependable as well. The 2.5-inch hard drive bay of the E585 can house either a SATA hard drive or an SSD.
Computer Input Devices (Keyboard, Trackpad)
The keyboard and trackpad on the Lenovo ThinkPad E585 are top-notch. Both the keyboard and trackpad are quite snappy and have a satisfyingly sharp feel. The keyboard and trackpad are both incredibly sturdy and barely flex at all. The keyboard's only real flaw is that it's very narrow, but even so, it's a fantastic piece of hardware.
The trackpad is the most notable feature of this device. It has a big, sleek design and excellent tracking. Although it isn't nearly as clicky as other trackpads, this one is still fantastic.
Conversational Audio/Video Conferencing
The Lenovo Thinkpad E585 has a webcam of respectable quality. It records video and music in high quality, and its picture quality is excellent. Whether you want to take part in video chats or make voice memos, you may do so with the help of the built-in microphone. The webcam's low quality is its one real drawback, making it less than ideal for serious work.
The Lenovo Thinkpad E585 has decent speakers and microphones. The sound quality of the integrated speakers is excellent. If you want to listen in silence, headphones or earphones will do the trick. This music's sound quality is fine for everyday use but may not be up to par for critical listening.
Display
If you're in the market for a sturdy and dependable laptop, go no further than the Lenovo Thinkpad E585 Display. The 15.6-inch screen size is ideal for working with multiple windows at once. The anti-glare feature of the screen makes it ideal for use in bright daylight. One more safety measure is provided by the fingerprint reader on the laptop.
Processor
With an AMD Ryzen 7 processor and 8GB of RAM, the Lenovo Thinkpad E585 is a powerful laptop. The combined resources are sufficient for extensive multitasking and other productive endeavors. A 256GB solid-state drive (SSD) is included in the laptop for lightning-quick startup and massive data storage.
The Ryzen 3 processor in the Lenovo E585 is a solid option for people looking for a reasonably priced yet dependable CPU. Superb functionality and low cost are its hallmarks. Also, it's an excellent pick for individuals who want a CPU that works with a broad variety of motherboards and chipsets.
USB 3.0, HDMI, and Ethernet are just some of the many ports on the Lenovo Thinkpad E585. This laptop is ideal for use in dim environments thanks to its backlit keyboard. Moreover, the battery can go for up to 12 hours on a single charge, which is quite long.
Performance
The ThinkPad E585 from Lenovo is a powerful business laptop that will easily handle your regular workload. It has a 256GB SSD, an AMD Ryzen 7 2700U processor, 8GB of Memory, and a fast boot time. The keyboard is spacious and the 15.6-inch screen is crisp and clear. The battery life is satisfactory, and the style is polished and businesslike.
If you're a business professional in need of a speedy and dependable laptop for regular usage, the ThinkPad E585 is a fantastic option. It can handle light multimedia playback, office apps, and web browsing with no problem. The layout is clean and polished, and the keyboard is easy on the fingers. The battery lasts for a reasonable amount of time, and the quality of construction is excellent.
The sole drawback of this 15.6-inch notebook is its rather modest screen. The Lenovo ThinkPad E585 is an excellent business laptop anyway, and it has more than enough power for typical uses.